Instagram is a great social media app for new traders to learn about trading and technical analysis, chart patterns and the application of technical indicators in a financial market.
There are a number of Instagram accounts that can help rookie traders learn everything about technical analysis.
These Instagram accounts provide price chart images and short videos of various markets with technical analysis insights and education.
The best Instagram accounts for learning technical analysis are:
Following these Instagram accounts will help improve all areas of technical analysis knowledge and provide different perspectives.
Nial Fuller
Instagram username: @nialfuller
Nial Fuller is a professional trader and money manager from Australia. He founded learntotradethemarket.com where he teaches his trading strategies.
His Instagram account can help a trader because:
There are many posts with forex price charts and candlestick pattern strategies annotated on them
He provides help with technical analysis price action setups
He offers images with trading and technical analysis quotes
He shows how to use technical analysis to enter and exit a trade with a particular focus on price action trading
The Trading Channel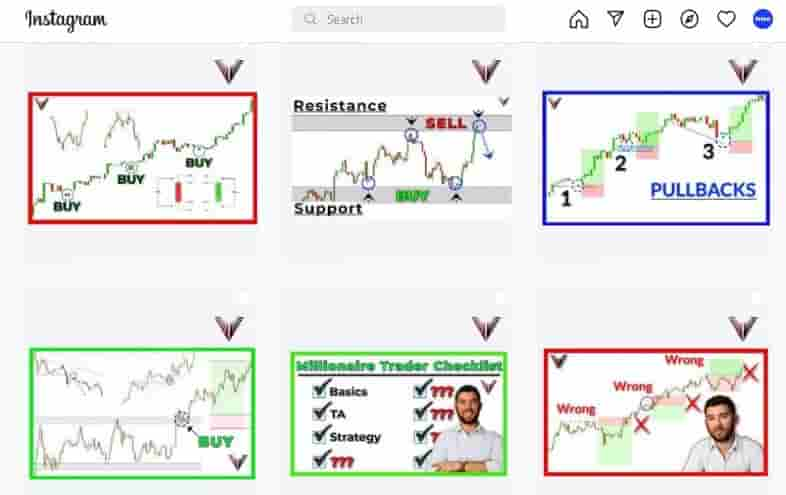 Instagram username: @thetradingchannel
The Trading Channel is an Instagram account by the Trading Channel founder, Steven Hart.
Traders should follow The Trading Channel on Instagram because:
He provides images and short videos on technical analysis strategies and rules to trade using technical analysis
He highlights technical analysis concepts like support and resistance levels in his posts on Instagram
He shows how to find buy entries using technical analysis
He shows how to find short entries using technical analysis
He explains technical analysis terminology in his videos on Instagram
Elliottwavecount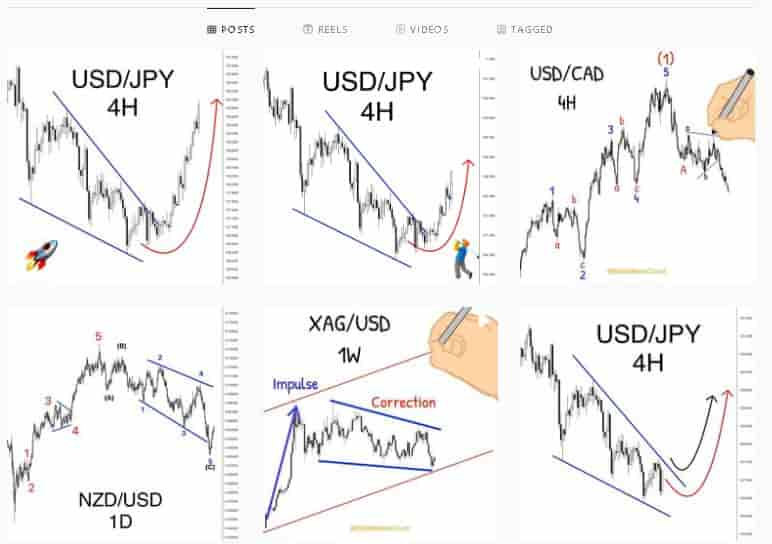 Instagram username: @elliottwavecount
The Elliotwavecount Instagram page provides followers with:
Images of Elliott wave theory analysis in various forex markets
Multiple timeframe technical analysis in the currency market
Example trade entries and exits using technical analysis and chart patterns
Images of using technical analysis for setting stop-loss orders and where to ideally place them
Calculations of risk vs reward by using technical analysis strategies
Stocky Trader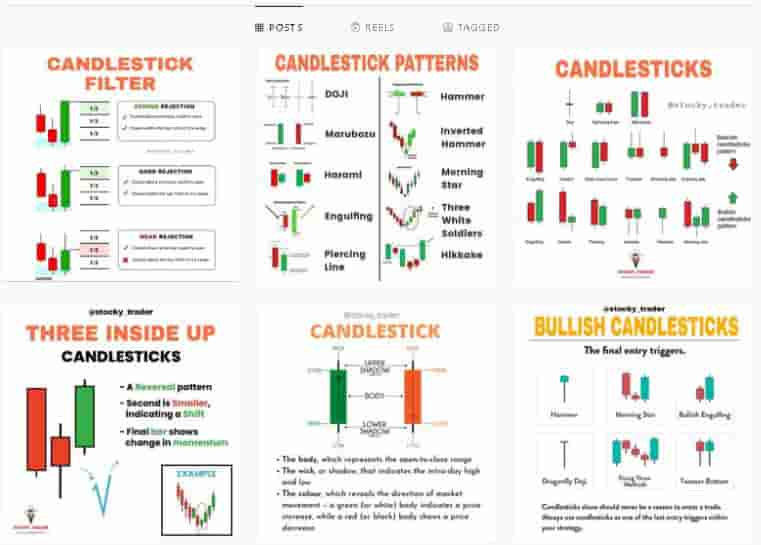 Instagram username: @stocky_trader
The Stocky Trader Instagram page is useful for learning technical analysis because:
It provides images with a glossary of technical analysis terms and explanations
It provides images of explainers on candlestick patterns including hammers, dojis, morning star etc.
It provides images with chart pattern explainers. Examples include an ascending triangle definition, cup and handle definition, head & shoulders definition etc.
It shows how to mark supply and demand zones on the price charts of a capital market
It shows images of how to find rising trends and downtrending markets
It shows examples of the different types of price charts used in technical analysis
Trader Vishal Sharma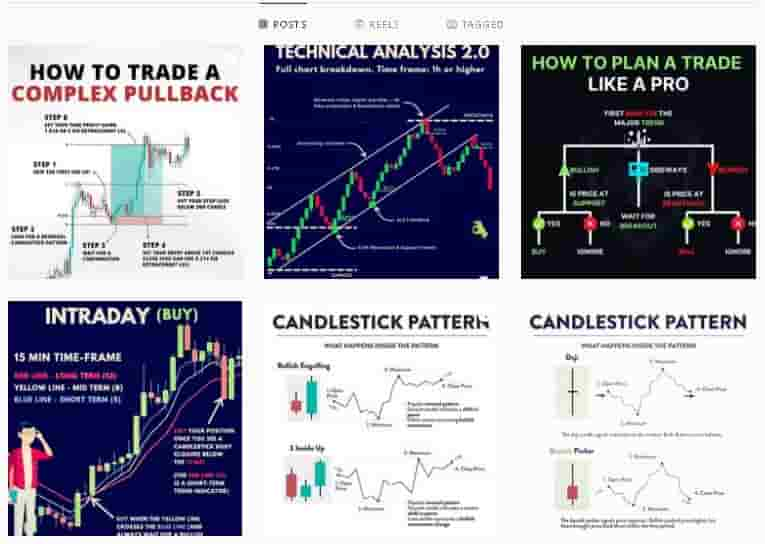 Instagram username: @trader_vishal_sharma
The Trader Vishal Sharma Instagram account is helpful for learning technical analysis because:
It provides definitions of candlestick patterns and chart patternsused in technical analysis
How to identify uptrends and downtrends using technical analysis
How to trade specific candlestick patterns and chart patterns
How to spot technical divergences between different technical indicators
How to trade breakouts by using technical analysis
Explanations on how to trade price gaps in the market
Charles Payne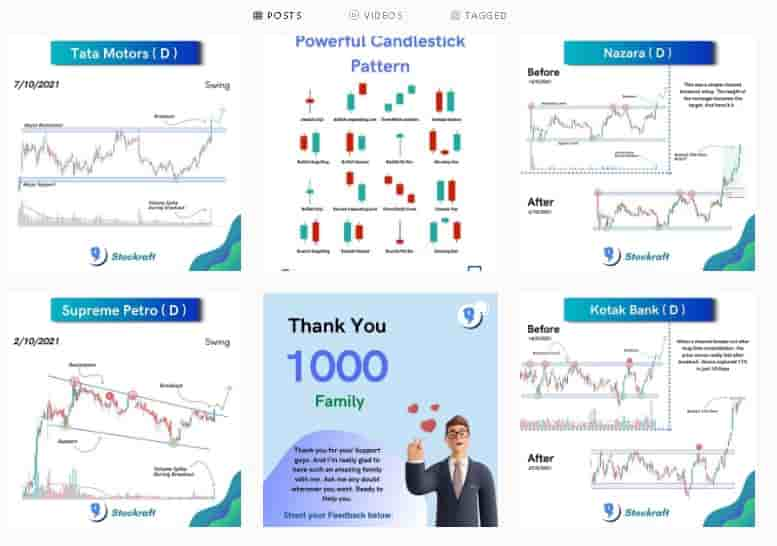 Instagram username: @charlasvpayne
The Charles Payne Instagram account is helpful for learning technical analysis because:
He provides images of technical analysis of various stocks
He highlights important support and resistance zones on the price charts of stock markets
He provides information on top books about technical analysis
He uses chart patterns and trading indicators to help provide logic and understanding to the price action of markets
He highlights the top chart patterns to use when analyzing the markets
He shows how to use technical analysis to trail stop-loss orders
He shows how to use the volume indicator to help with trading breakouts
Thomas | VagaFx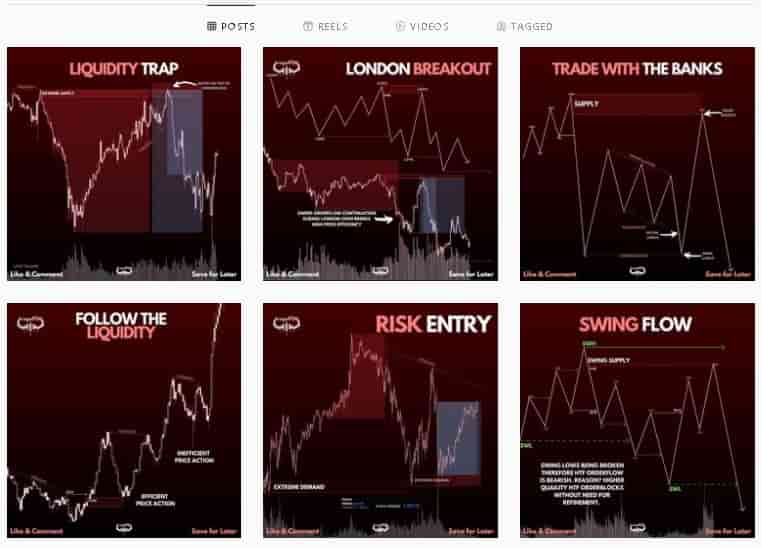 Instagram username: @vagafx
The Vagafx Instagram account is helpful for learning technical analysis because it:
Provides technical analysis of the forex market with annotated chart examples
Explains technical terms like liquidity traps, order flow, hedging etc.
Highlights using intraday technical indicators and multiday technical indicators for trading the forex market
Shows how chart patterns can help spot trends
Frequently Asked Questions About Learning Technical Analysis By Following Top Instagram Accounts
Below are frequently asked questions about following Instagram accounts to learn technical analysis.
How Can You Find Top Technical Analysis Instagram Accounts?
A person can find top technical analysis based Instagram accounts by using the search function on Instagram and typing in technical analysis terms like "technical analysis", "technical indicators", "technical analysis theories" and "technical analysis strategies".
What Are The Best Hashtags To Find Top Technical Analysis Instagram Accounts?
The best hashtags to find Instagram accounts that offer technical analysis education include:
#technicalanalysis
#tradinganalysis
#chartpatterns
#technicalindicators
#candlestickpatterns
Does Following Technical Analysis Instagram Accounts Help A Trader To Learn Technical Analysis?
It depends on the specific Instagram account. Some accounts provide a lot of value with technical analysis education including chart analysis, chart patterns and technical indicator examples whilst others are of poor quality.
Are There Many Scams When Looking For Instagram Accounts To Learn Technical Analysis?
Yes, there are many scams on Instagram when searching for technical analysis accounts that provide useful information. Typically, a scam Instagram account can be spotted when the Instagram account posts unverifiable claims of huge trading returns or offers to sell special secret technical indicators claiming that these indicators can make big returns. These accounts should be avoided at all costs.
In our research for this article, we came across countless examples of scam Instagram accounts offering technical analysis and trading education, typically in the form of offering trading alerts or paid telegram groups so be very cautious with who you follow on Instagram.